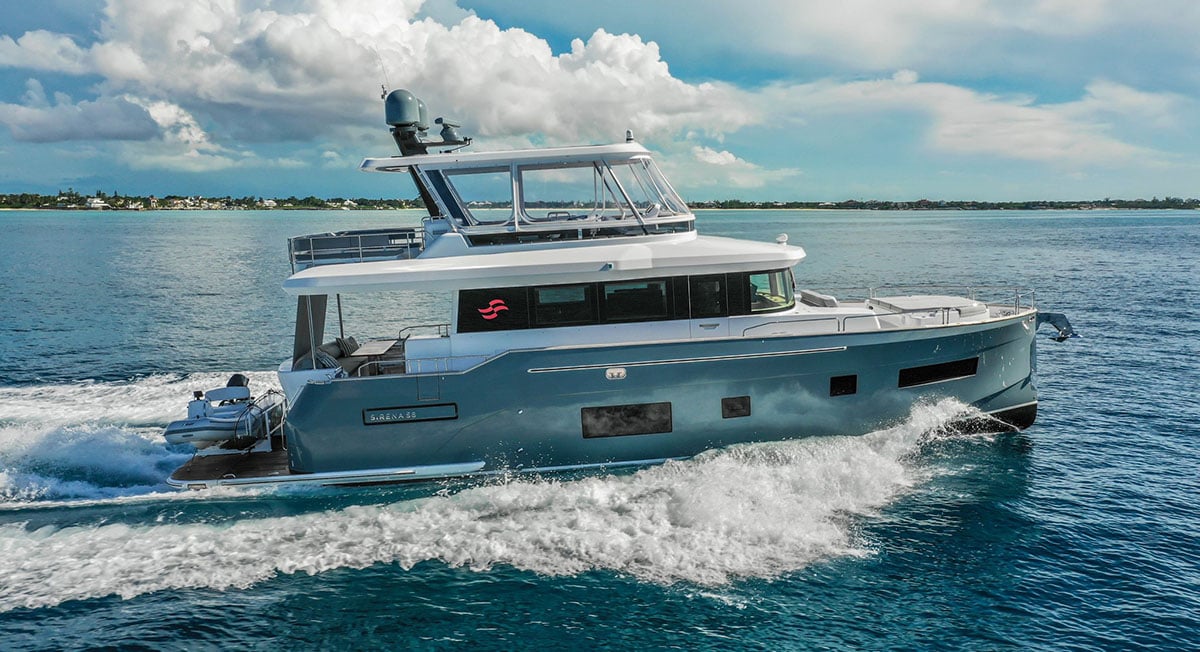 From Sirena Marine to Sirena Yachts
Sirena Yachts started as Sirena Marine circa 2002 and they have since been building boats mostly under contract for other builders. In 2008, Sirena partnered with Azimut to help create their Magellano series of yachts. Sirena has been building certain models for 12 years now.
In 2015 Sirena decided to introduce their own brand, and Sirena Yachts was started. The first of the Sirena Yachts was the 64' which was introduced in Dusseldorf in 2017.
In February of 2017 at the Miami Boat Show, Sirena Yachts brought in the 64 along with a prototype of the 58, and the rest is history. Harold Del Rosario, a representative of Sirena Yachts shared that the company is currently building hull number 35 of their Sirena 58 series.
Hull Design
The Sirena 58 is a semi-displacement hull as opposed to the majority of her competition. Most other yachts in similar categories are planning hulls with pod drives leaving the 58 more planted in the water. The Sirena 58 offers a full-length keel from the bow entry to just before the props, plus chunnels to help protect the props.
Propulsion
A Category A yacht (as opposed to most of their competition), the Sirena 58 is a true ocean-going yacht. With twin 650 Caterpillar 8.7's as standard propulsion, she'll cruise at 18-19 knots and offer you a top speed of 25 knots. At displacement speeds which are around 9-10 knots, she'll sip her fuel at one mile per gallon and give you a range about 950 miles. The Sirena 58 is a shaft boat as opposed to pods, which makes her more equipped for offshore use.
Stabilization
Optional SeaKeeper gyros take out up to 95% of boat roll and work well at slow speeds. The Sirena 58 already has improved stability with her natural quite beamy form.  Add to that the intelligent hull composition which uses increasing amounts of lightweight carbon composites moving from the keel up towards the fly bridge. This keeps the center of gravity low, thereby improving stability.
Key Features
Large flybridge

Sunroof located in flybridge hardtop

Multiple below-deck layout options

Hydraulic swim platform

Side boarding ladders

Dual helm stations

Spacious lounge areas

Deck access to VIP cabin (optional)
The Take-Away
The Sirena 58 was designed for cruising and it's her semi-displacement hull and shaft drives that set her apart from her closest competition. She's a great boat with state-of-the-art engineering that you will immediately recognize and appreciate.
Ready to step aboard a Sirena 58 and see if she may be the right boat for you? Take a look at our

current inventory

and subscribe to our newsletter to get first notice on

incoming inventory

.