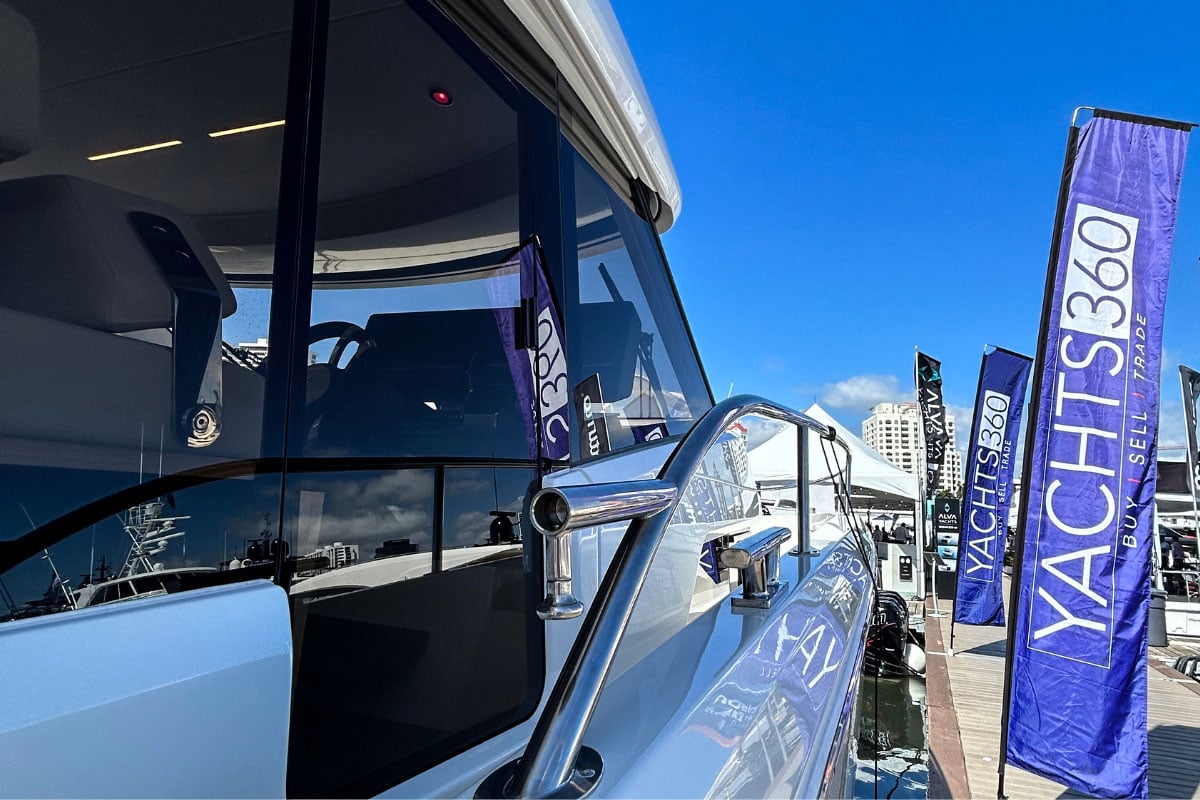 Posted on
September 19, 2023
2023-2024 Boat Show Calendar
---
With the Fort Lauderdale Boat Show only a month away and many other boat shows on the horizon, anticipation is building for the 2023-2024 boat show season. Whether you're an avid boater, an aspiring yacht owner, or simply someone who appreciates a fun weekend with the family, now is the time to start planning your 2023-2024 boat show season! 
*Note that certain dates are subject to change so be sure to check the boat show websites for the most updated information.
---
October 5th – 8th, 2023
In October, Ego Alley and Annapolis Harbor transform for the Annapolis Powerboat Show, displaying new boats, the latest marine accessories, and the newest gear in the fishing industry. Family-friendly and full of fun events, this show is just around the corner so be sure to buy your tickets ahead of time!
---

October 13th – 15th, 2023
Held at the Downtown Wilmington Convention Center on the water, Yachts360 will be attending this year's show! Be sure to stop by our booth display to meet the Wilmington Brokerage Team, discuss our boat buying program, and tour our in-show inventory!
---
October 25th – 29th, 2023
Yachts360 will be returning to the 2023 Fort Lauderdale International Boat Show with our full display on F/G Dock! With over 1000 boats on display across seven locations, FLIBS 2023 is gearing up to the largest boat show to date. Stay tuned to Yachts360 Media to learn more about our display and stay in the loop.
---
January 4th – 7th, 2024
Hosted in the Music City Center in Nashville, TN, the four day Nashville Boat Show offers plenty to do with the family including touring boats, product demos, a waterskiing squirrel, and a concert from Dalton Elliot!
---
January 10th – 14th, 2024
With a wide variety of boats on display and a long list of events to attend with the family including a sand sculpting exhibition and lessons, the Chicago Boat Show is a must-attend event for those in the market for a boat and for families looking for a fun weekend!
---
January 18th – 21st, 2024
Celebrating 67 years, the Progressive Cleveland Boat Show is Ohio's largest and longest-running show, offering live music, educational sessions for all boating levels, local cuisine, family activities, live fishing stages, and a glimpse into the upcoming boating season.
---
January 18th – 21st, 2024
The St. Petersburg Power and Sailboat Show, Presented by Progressive, is set for January 18-21, 2024 with tickets at $21 for adults and free for kids 15 and under. This is a great show for those in the market for a new or used boat and our Florida Brokerage Team will be ready to help you with any questions about the show!
---
January 24th -28th, 2024
Gear up for the 2024 New York Show hosted at the Javits center and featurings hundreds of boats from your favorite brands! From bow riders to center consoles and beyond, there is something for everyone at this show including product demos and more!
---
February 14th -18th, 2024
One of the most famous shows in the world, the 2024 Miami International Boat Show takes place all across the Miami waterfront. With a full in-water section and multiple indoor locations, this year's show will be a must-attend event! Follow Yachts360 Media to stay in the loop with boat show news.
---
March 21st -24th, 2024
With over 50,000 attendees at the 2023 show and more than a one billion dollar economic impact, it is no wonder that the West Palm Beach Show is one of the best shows in the world. Join Yachts360 in 2024 and subscribe to our newsletter for up to date information as the show nears! 
---
In The Market For A Boat?
If you are looking for a specific make or model at the 2023-2024 boat shows, let us know! Members of the Yachts360 Team attend most every boat show and would love to help you find the perfect vessel. If you have questions or would like to speak with a member of our team, please contact us directly or reach out to one of the on-site brokers!