Blackwell Boatworks: A Family Business
Craig Blackwell has been loving and building boats for more than forty years. He got his start in Bay City, Michigan at age sixteen with a five-year apprenticeship to the developers of West System Resin, an apprenticeship which Craig says taught him "the fundamentals of lightweight, strong wood and composite construction." Upon moving to Florida and later to North Carolina, Craig continued to advance his boat builder skillset with a focus on jig building.

Craig branched out on his own and established Blackwell Boatworks in 1988. In the thirty-plus years the boatworks has been in business, Craig and his team have lovingly produced upward of eighty sportfishers in all sizes ranging from 28-feet to 72-feet LOA.
Blackwell remains a true family-run business and Craig's sons and sons-in-law are all onboard. Each family member specializes in a particular aspect of the boat building process from high-level concept design to interior woodwork to finishing details. Together, the Blackwell family has garnered success in building the boats themselves as well as long-term relationships with clients.
The Blackwell 65
Built in 1999, the Blackwell 65 Custom Carolina is 65-feet LOA with a beam of 17'4". Its four cabins can sleep up to eight people who share the vessel's two ample heads. The Blackwell 65 is powered by two inboard CAT 3412 diesel engines, each with 1,350 hp to support a cruising speed of 31 knots and a top speed of 40 knots.
Distinctive Lines and Balanced Proportions
All Blackwell boats are designed and built with an emphasis on both form and function. The overall vessel shape is distinctive starting from the bowstem. The bridge lines, window lines, and shear lines all complement each other. The tumble home complements the flare, and the shape of the transom complements that of the overhang. All visual elements align and are meticulously proportionate for an effortlessly balanced feel backed by functional purpose and practical forethought.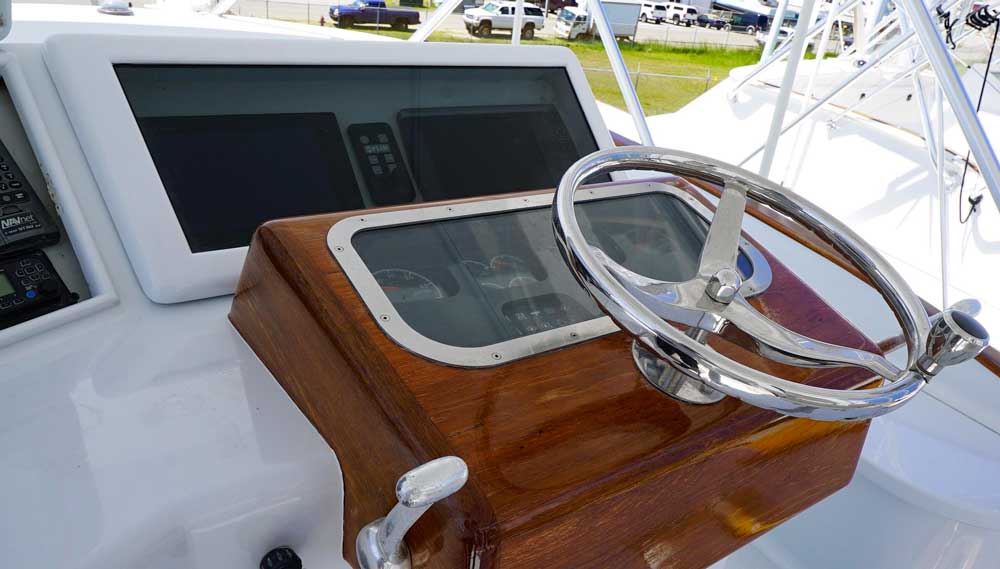 Inviting Interior
Step into the salon and you will immediately be greeted by Blackwell's signature interior design ethos. The Blackwell 65 is true to Craig Blackwell's vision of clean and simple interiors with surfaces that are easily maintained. As a father and grandfather, he recognizes the need for a space that is, as he puts it, "not so fancy that you are worried about scratching or damaging something."
The 65's interior hits the sweet note of livable, timeless sophistication. Eye-catching wood elements accent the warm, neutral tan color palette of the carpet and furniture. The maximized floorplan features long settees flanking the sides of the salon and expansive windows on both port and starboard to let in natural sunlight. The adjacent galley is open to the salon allowing hosts to interact with their guests easily and seamlessly. This layout creates a welcoming feeling of plenty of livable space for entertaining and relaxing.
Top Build Quality
Blackwell boats are built to hold their value. Craig recently inspected the first boat his company ever produced and observed that while he and his family have continued to improve their technique since then, even hull number one exemplifies Blackwell's consistent quality from bilge to flybridge. Ultimately, Blackwell boats like the 65 Custom Carolina are built for both longevity and beauty. "We build people's dreams. We are Carolina dream builders," says Craig Blackwell.