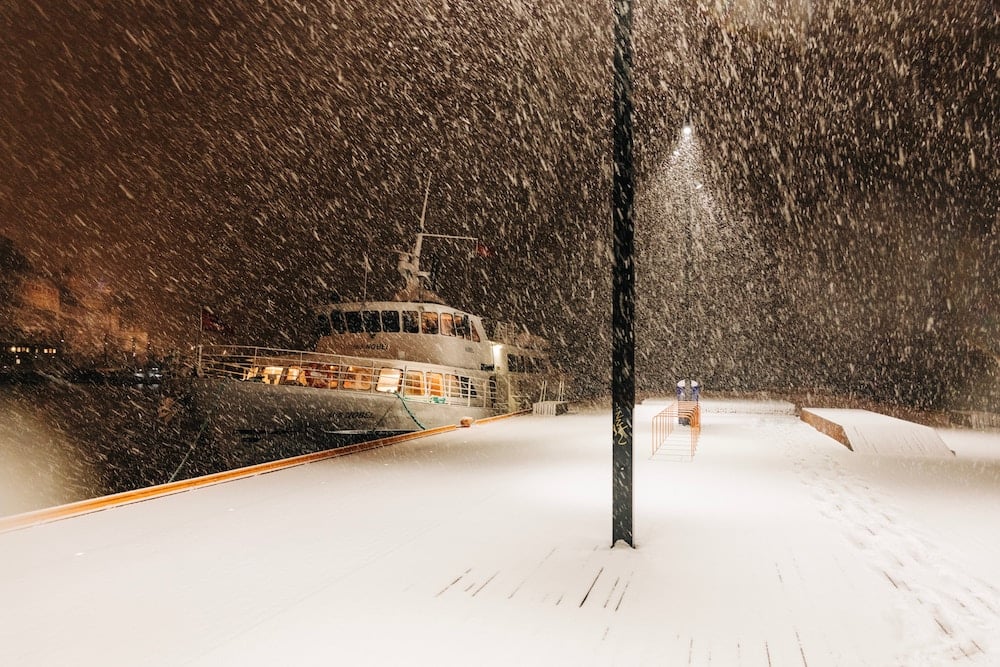 If you have the fishing bug, chances are you won't be slowing down this winter, so let's get your winter fishing clothing line up squared away.
Understanding Base Layers
The base layer is your first layer of defense in cold weather, be it out fishing or out hunting. It is the name for any item worn next to your skin during times of exposure. Your base layer does two things: first, it provides a bit of insulation to keep your body's heat in. Second, it wicks moisture away from your skin through the fabric where it can evaporate.
In the cold, base layers are extremely important. They help prevent you from sweating. Sweat soon turns to cold and cold to hypothermia. In cold weather survival schools, instructors often teach "if you sweat, you die."
Base layers can consist of materials ranging from synthetic (polyester/lycra type), merino wool, bamboo and even cotton. Synthetic tops the charts here for both performance and durability. The downside is the smell. Synthetic fabrics trap orders. That just means you need a bigger boat for you and your crew, or you may wish to do a "quickie" rinse in the sink or while showering if you happen to be out a few days.
Mid Layer
Next up is the mid layer. This layer has one purpose – to keep you warm. It can be swapped out for heavy or lightweight varieties.
Step back into history and don a traditional fisherman sweater. What did the fishermen who have gone before us know about keeping warm on the water?
Check out this bit of history:
Fishermen in the north Atlantic have long worn woolen garments, likely introduced by the vikings when they settled the coasts of Ireland, Scotland and northern France. Wool was used for both its warmth and the naturally occurring lanolin in its fibers, this oil gave the wool a natural water resistance that would protect the wearer at sea. Modern sweaters rarely have lanolin as it is usually removed during the processing & softening of the wool. Despite press stories to the contrary, the modern fishermans sweaters have their roots in the late 1800s when particular styles were standardised and sold commercially outside of the small island communities where they were made. There are countless varieties but the defining characteristics were a close fit and a heavy texture in order to keep the cold out. – Excerpt from epochs.co 
Wool still has its place as a great material for use on boats and is one of the few fabrics that continues to insulate even when wet. Other choices for your mid layer include synthetics such as a synthetic pull over hoodie-sweater. One product not to use is cotton. Cotton won't do much for you when wet other than to make you colder.
Another fiber on the market and gaining momentum is alpaca fleece. This is a great option and even outperforms wool. Alpaca is lighter and more water resistant than sheep's wool. Think about upgrading to alpaca when you are putting your gear together for this winter.
Outer Layer or "Shell"
The main purpose for this garment is to keep the wind and cold out. They may not consist of much thickness (think rain fly / wind breaker combo), but a good quality shell will keep you dry. These should be lined with a material such as Gore-Tex. Gore-Tex is both wind and waterproof yet will still breathe and help control temperatures and moisture.
Bibs for Bottoms
Bibs are just like your shell and have the same purpose – to protect you from wind, cold and water. If you get a set, you can match your bibs to your shell. Bibs or "farmer johns" come up as far as your chest and are held up with suspenders. This style is preferred as it overlaps the coverage you have around your waist level.
Head Gear
Choices include synthetics, wool and a wool blend. Some kind of head warmer, watch cap or stocking cap will do just fine. Keep your head out of the direct cold air and keep those ears warm. 
Gloves
Gloves seem to be the one item that will always take the most beating. No matter what you do, they are going to get drenched.  If you've been out there before, you know to take several pair. A few can be drying out while the others are on standby. Gore-Tex gloves are a great start. We have even used neoprene diving gloves which work great but do not last long. They simply don't hold up to the abuses of the deck.
Socks
Think insulated wool socks or a wool blend. This is part of your base layer, only for your feet. Take an extra pair or two and change them out if they start to feel either wet or sweaty. You can even wear a micro layer sock as a base layer and add a thicker wool sock over that. This way you simply change out the micro layer sock as needed.
Water resistant and insulated boots
Boots can either be simple rubber boots or have a Gore-Tex lining. Your choice depends on your type of fishing, the weather and how much water you have sloshing up on decks. Thinsulate is a 3M brand that has found its way into the boot market. Boots with Thinsulate will have a higher R-value and will provide you with more insulation than those with none.
Accessories
Hand Warmers
Grabber Hand and foot warmers are very popular in the hunting community and there is no reason you can't take them out onto the water with you. Grabber Warmers have natural ingredients that warm up when they react to air. They are small, but pack a punch and are great to have on hand.
Wire Cutter did an extensive test on 23 hand warmers over the last four years. Their results can be seen on their website. I'd caution you with regards to using an electronic version on a boat however, as it may not hold up to saltwater intrusion. Still there are other types tested that would work just fine.
The Zippo 12 Hour refillable is a time-tested device. This is a catalytic style hand warmer that uses zippo fuel (Naptha). They can get pretty hot, so try putting it in a loose-fitting sock to avoid direct contact with your skin.
Thermos
Whether it's a cup-a-joe, hot chocolate or soup, something warm in your tummy while out in the cold is a real morale booster. Scott from Best Survival gets the credit for testing this year's best thermos. Scott's pick is the Yeti Rambler 36 oz Vacuum Insulated Stainless Steel Bottle with Cap.
The Take Away
By adding the above-mentioned items to your next shopping list, you'll be ready to head out for winter fishing and try your hand at the not so Deadliest Catch. Between the clothing and accessories, you'll not only stay warm on the outside but also on the inside.