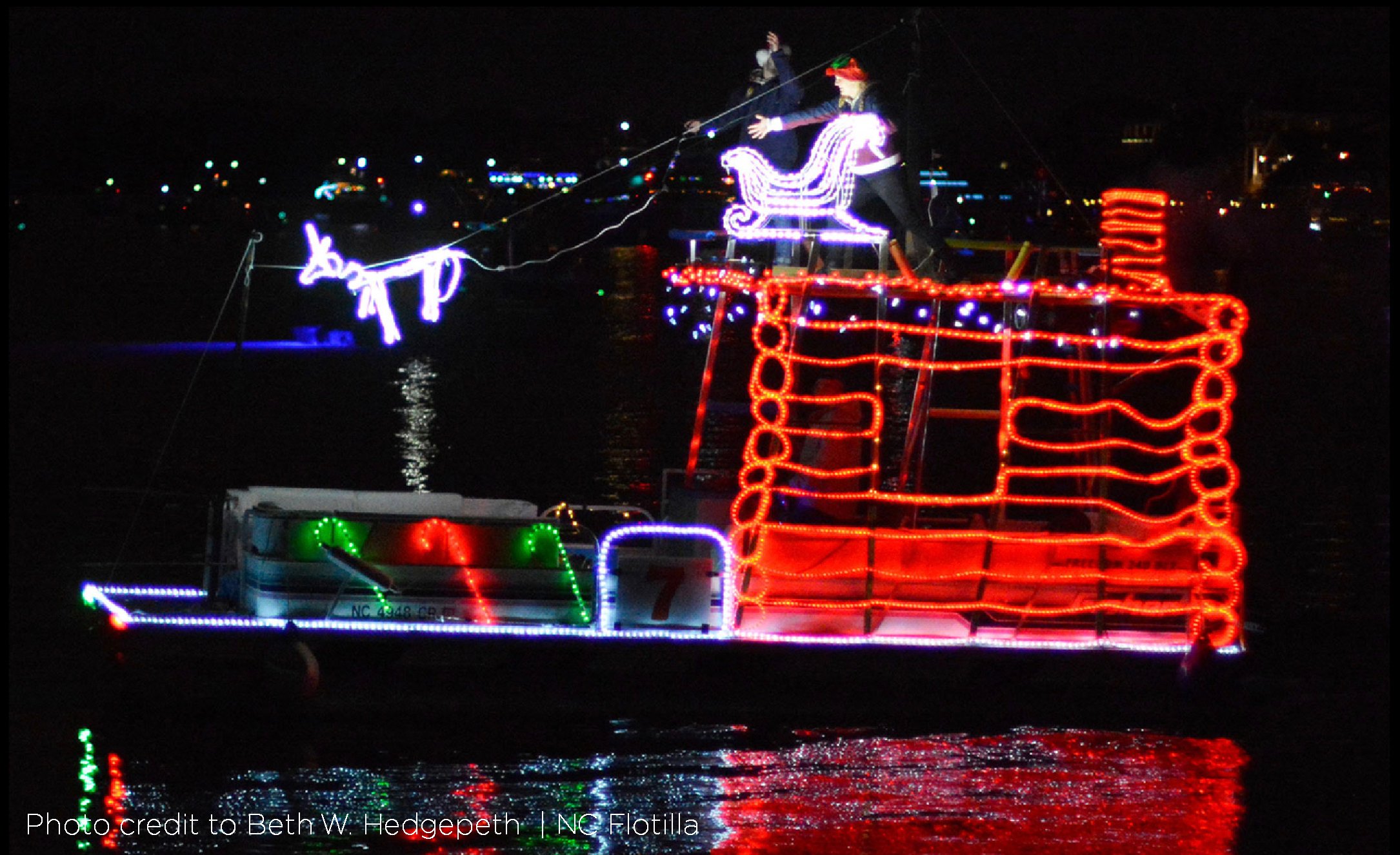 The year is nearly over, and with winter upon us, many boating activities are slowing down. That doesn't mean that our days of marine fun are over until next summer though. There are still plenty of festive events scheduled in the next month, and some of the most fun boating events both to watch and participate in are lighted boat parades.
Lighted boat parades take place all over the country and are sponsored by both yacht clubs and towns. While some boat parades have been canceled this year due to COVID, others are still taking place with social distancing and mask-wearing protocols in place. Today we have the rundown of the top lighted boat parades in the southeast this holiday season with suggestions for Florida, Georgia, and the Carolinas.
One of the best ways to social distance and still enjoy all the fun of the boat parade is on your own boat. If decorating your boat and joining the parade lineup sound like fun to you, stick around to the end of the article where we will share some boat decorating tips and tricks that will have your vessel standing out from the rest.
Lighted Boat Parades in Florida
Florida has a bounty of long-standing holiday boat parades to choose from. For all the details, check the Florida Rambler's thorough and updated list of holiday boat parade events proceeding as planned this year as well as ones that have been postponed to 2021.
Some of the highlights of this year's events include:

Date: Saturday, November 28th, 2020
Time: 6 pm
Location: St. Johns River, Downtown Jacksonville, FL
Information: The Jacksonville Light Boat Parade has been around or more than 30 years and takes place right downtown along the St. Johns River parade route. The event concludes with a firework and waterfall show that starts around 8 pm.
How to Participate: Registration in the Jacksonville Light Boat Parade is free and open to the public with vessels of all sizes and shapes accepted. Pre-register online, or if you miss the online cutoff, check entry availability in person one hour prior to the event.
Date: Saturday, December 5th, 2020
Time: 6 pm
Location: Intracoastal Waterway, Venice, FL
Information: Venice's miles of intracoastal waterway make for one of the best lighted boat parade viewing experiences on the coast. The parade route starts above Albee Farm Bridge and heads south, turning around before Circus Bridge.
How to Participate: Fill out and submit a parade application form, meet the criteria on the form, and attend the skipper's meeting the Wednesday before the event. A $20 registration gets you a commemorative plaque and two tickets to the awards reception.
Date: Friday, December 11th, 2020
Time: 7-10 pm
Location: Intracoastal Waterway, Pompano Beach, FL
Information: The longest running holiday boat parade in the country marks its 58th year in an event dedicated as "A 'Salute' to our First Responders and Essential Workers." The parade follows the Intracoastal Waterway from Lake Santa Barbara to Hillsboro Bridge
How to Participate: Participation is free; simply fill out and submit a boat parade application form.
Lighted Boat Parades in Georgia
The Savannah Harbor Foundation's Boat Parade of Lights is a highly anticipated event that includes a fireworks show and multiple choices for VIP viewing options both on and off the water. Parade viewers can enjoy all the sights, sounds, and tastes of the season with a visit to the Savannah Christmas Market either before or after the parade. Can't make a lighted boat parade event in person or need to stay home and socially distance this year? The Savannah parade can be enjoyed remotely thanks to multiple cameras live streaming the event.
Date: Saturday, November 28th, 2020
Time: 7 pm
Location: Riverfront, Savannah, GA
Information: The parade along the riverfront starts at 7 pm with a fireworks show to follow. VIP viewing is available at the Electric Moon, Plant Riverside, or aboard the Georgia Queen.
How to Participate: Parade entry is free, with a requested donation of presents or gift cards to one of the parade's children's charities. It also includes a captains' awards reception and free dockage. Fill out a captain's registration form to enter.
Lighted Boat Parades in North Carolina
The Crystal Coast Christmas Flotilla in Beaufort, NC welcomes all vessels from kayaks to commercial boats to participate in the event and be eligible to win prizes. Spectators can watch the parade travel the waterfront between Morehead City and Beaufort.
Date: Saturday, December 5th, 2020
Time: 5:30 pm viewing on the Morehead City waterfront and 6:15 at Beaufort waterfront
Location: Beaufort waterfront, Beaufort, NC
How to Participate: Registration is free and can be done by phone, email, or in person. See event website for details.
North Carolina Holiday Flotilla At Wrightsville Beach
This year's Wrightsville Beach Holiday Flotilla has been cancelled, sort of. Due to Covid, this year's flotilla will be a dock decorating contest where boater's can view decorated docks from the Motts Channel all the way to the Coast Guard Station.
Date: November 27th-28
Time: Friday at 5:30 pm through Saturday at 10:00 pm
Location: Motts Channel to the Coast Guard Station.
How to Participate: Participation is free. Dock registration is online. 
Lighted Boat Parades in South Carolina
This year the city of Charleston and America's Boating Club Charleston will host the 39th Charleston Holiday Parade of Boats. This free event includes a fireworks display over the harbor at the culmination of the parade.
Date: Saturday, December 12th, 2020
Time: 5 pm along Mount Pleasant and 7:30 pm at the downtown peninsula
Location: Charleston Harbor, Charleston, SC
Information: The parade can be viewed from all around the Charleston Harbor from both indoor and outdoor viewing sites. The parade travels from the Cooper River, through the Charleston Harbor and into the Ashley River with fireworks to follow. Review the parade route for more details.
How to Participate: Entry is free with a trophy for the highest scoring vessel. To enter, fill out and turn in a registration form.
How to Decorate Your Boat for a Lighted Boat Parade
Sure, decorating your boat is like decorating your house, except you don't take your fully decorated house out on the water and go for a cruise. There are a few extra considerations to keep in mind when planning your boat décor that will have you looking good and staying safe during the parade.
First up, check if your parade has a theme, and if so, design your decorations around that theme. If not, choose a theme of your own so that the décor feels cohesive. Next, draw out the designs you want to include and consider how you will secure them to your vessel. Some award-winners have even used chicken wire as a stable rigid backdrop for their custom light displays. Sailboats can make use of the mast and rigging while power boats have more freeboard to work with.
However you choose to secure your décor, before getting underway in the parade, do a test run. Check for anything that may come loose and ensure that none of the décor obstructs the captain's view or presents another type of safety hazard.
Have a great time, stay safe, and happy holidays from all of us at Yachts360.