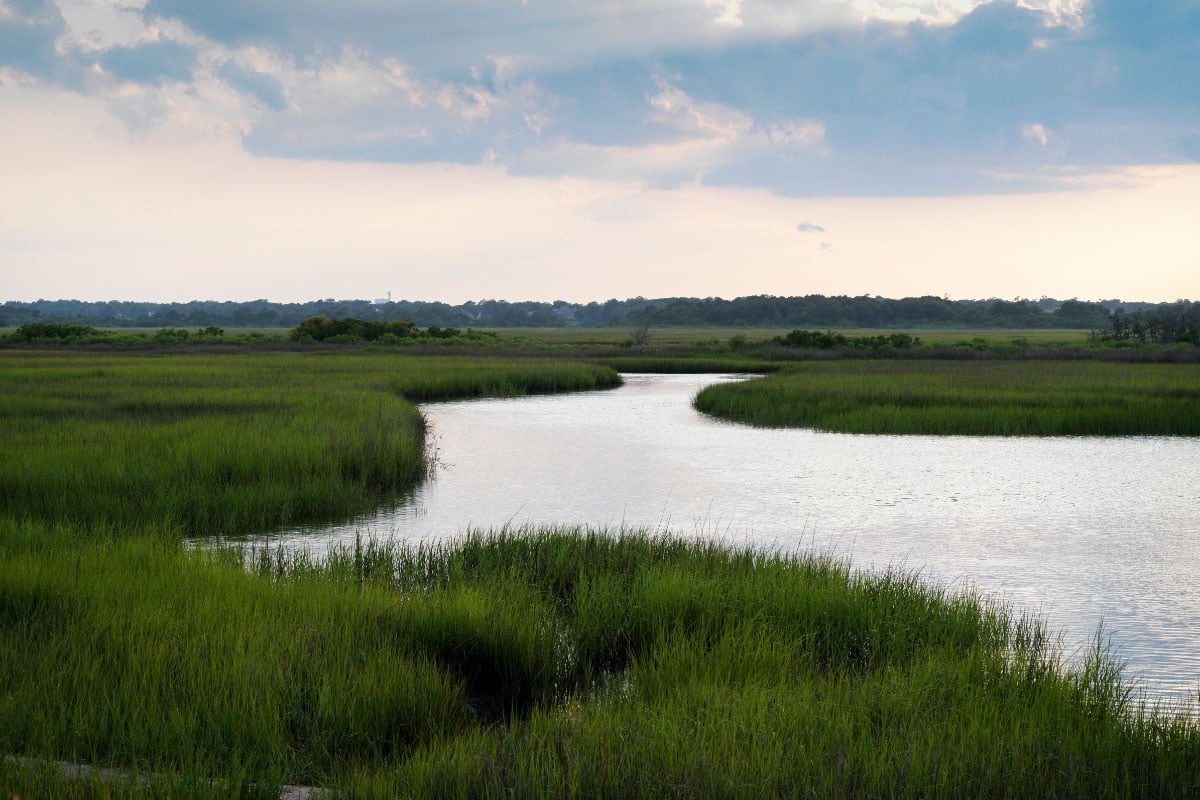 Posted on
September 20, 2022
Inshore Fishing | Conquering The Carolina Coasts
With the weather starting to cool off and bait starting to move, the inshore fishing on the Carolina coasts is beginning to heat up. From the current flounder season to the incoming speckled trout, let's take a look at the best tactics for catching a few of the most popular fall fishing species!
Before we get started, be sure to purchase a license and know your local regulations: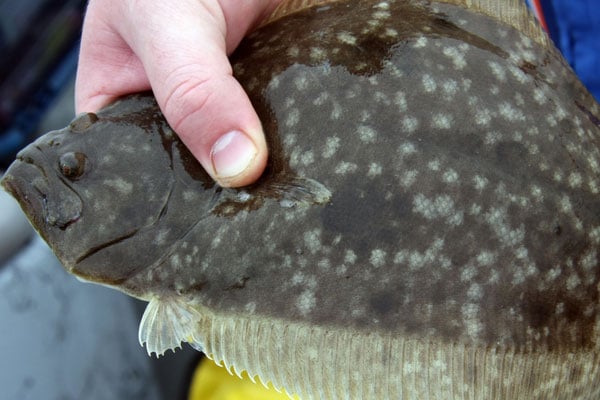 Flounder
The Carolina coasts are famous for Southern, Summer, And Gulf flounder which are easily one the tastiest fish in the ocean. However, from their subtle bite to the new season limitations (NC), it can take some patience to find these tricky "doormats".
Rigging For Flounder
The Carolina Rig is one of the most popular rigs for flounder fishing and for good reason, it produces fish! A simple weight, bead, swivel, and khale hook is the setup and any kind of small bait fish is perfect to trick a flounder. Mullet and mud minnows are highly effective and hooking them through the lips will allow you to feel a bite and keep the bait active.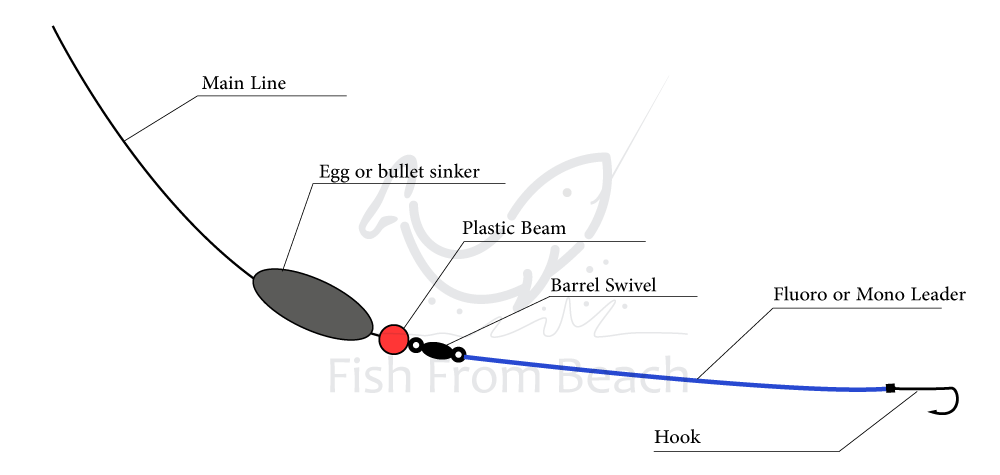 Carolina Rig: Photo FishFromBeach.com
If the tide is too high and/or live bait is not available, a red or white jig head with a Gulp bait catch a flounder. While there are numerous flounder rigs out there, the Carolina rig or jig setup are easy to setup and will produce fish on both the North and South Carolina coasts.
Feeling The Bite
In order to hook a flounder, you have to understand how they eat and what it feels like on the end of a line. Flounder typically take the bait and will descale or "chew" instead of sprinting off like a red drum. This translates into a general "thump" and weight on your line. If you are slowly reeling in and feel this thump, give the line some slack so the fish can take enough of the bait for the hook to be in the flounder's mouth. From there, simply lift up the rod tip and start reeling! If you are using a khale style hook, the flounder will hook itself and then it is up to your fish fighting skills to get it into the boat!
Tides And Locations
Flounder can be found on any tide and in nearly any location, however there are certain hot spots to consider. Structure including docks, reef, dropoffs, and marshes will always hold fish and a savvy angler will "follow the bait" and see where a flounder may be hiding to ambush a baitfish.
We have caught flounder on every tide, but an incoming or outgoing current will move baitfish and keep flounder feeding even if it is the middle of the day. Many anglers swear by one tide cycle, but flounder are opportunistic so the key is to just be out there fishing!
Red Drum
Watching a new angler hook up on a red drum is an amazing experience and for good reason, they are one of the hardest fighting inshore fish in the game!
Rigging For Red Drum
Red Drum fishing can be a bit more complicated when it comes to tackle options due to their feeding habits. Depending on the tide, you may find drum hiding near a dock, high up in a weed bed, or chasing a nearshore bait ball.
For inshore/marsh fishing, live bait on a Carolina Rig or the Gulp setup mentioned earlier will produce fish. If you are looking for topwater action, get out right at first light on a higher tide and cast mirror lures into the mouths of creeks. Many anglers also use an artificial shrimp below a popping cork which simulates a distressed bait fish.
Popping cork rig: Photo SaltWater Sportsman
Feeling The Bite
You will know if a red drum hits your bait…just be sure you are hanging on tight! Drum are aggressive and will run hard and fast as soon as they are hooked. If possible, try to keep your line in open water and away from docks, oyster beds, and any other structure.
Tides And Locations
Higher tides tend to produce more red fish as it provides more water for them to move up into the creeks. They will often be seen "tailing" in shallow waters chasing after bait and eating crabs in the mud flats.
That being said, lower tides can produce fish, but you may have more luck jigging near shore or having local knowledge of a deep hole where they may hang out.
Speckled Trout
When the weather really cools down, you will see hundreds of fisherman throwing every kind of artificial minnow available at the marsh banks for trout. Why? Speckled trout are great fighters, can be found in numbers, and are one of the better tasting fish in the ocean.
Rigging For Trout
While trout can be picky when it comes to weather and tides, pretty much any artificial minnow, shrimp, or plastic will produce fish. A basic jig head at the end of 20lb mono is perfect and we have had luck with paddle tails in a purple, white, and dark colors depending on light conditions.
Feeling The Bite
Trout are predators and will smack a bait pretty hard and start running to the surface. This surface action is a dead giveaway of a trout on the end of your line and keeping them from spitting the hook is the key. We recommend always bringing a net and treating these fish carefully if you do not plan on keeping them for dinner.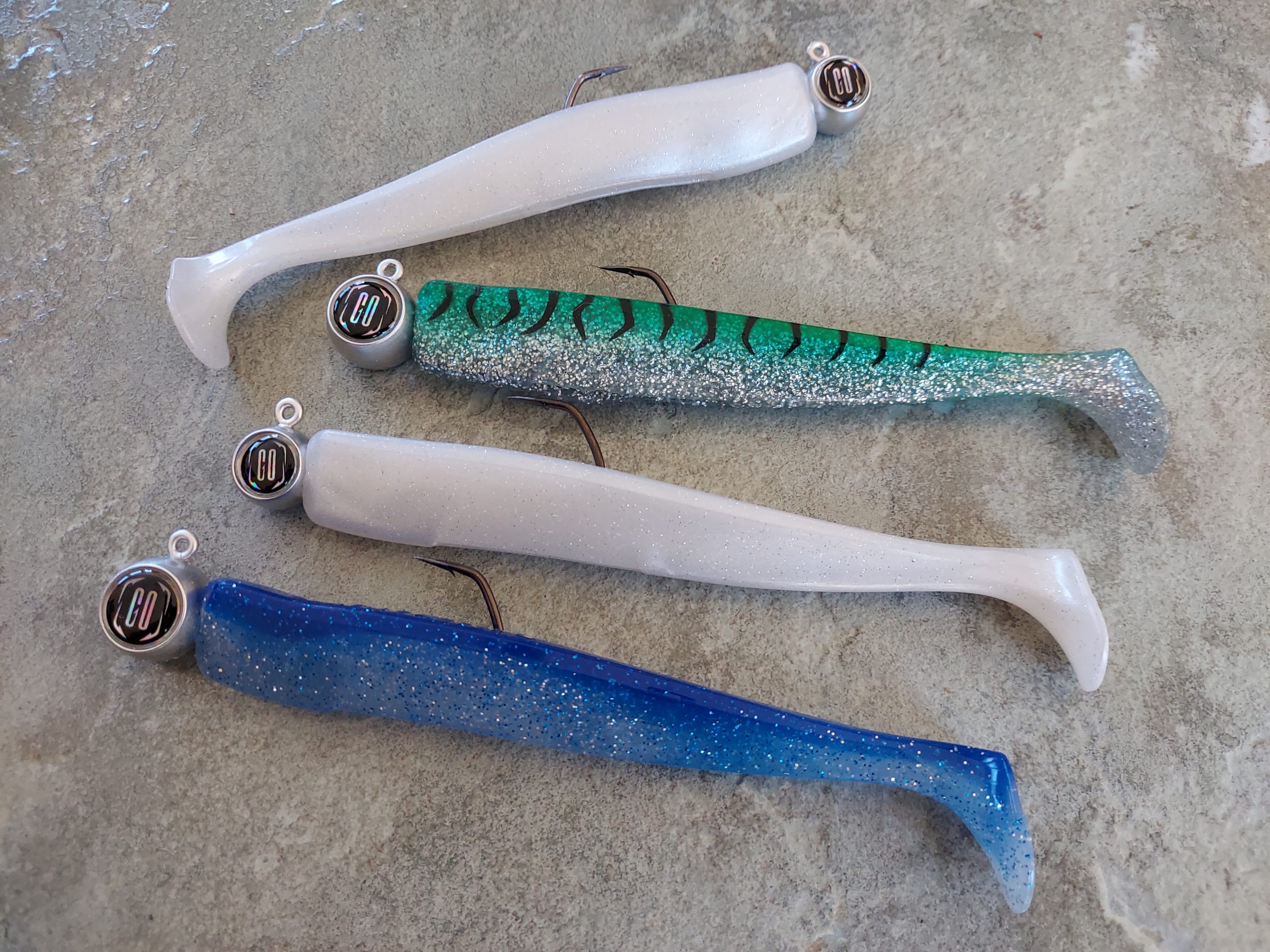 Typical Paddle Tail Rig: Photo: Game On! Lures
Tides And Locations
High tides tend to produce more trout if you are fishing in marshy areas. During lower tides, trout tend to move out towards jettys or start pushing down the Intracoastal Waterway making them a bit harder to find.
Overcast days will keep the bite alive longer and persistence is the secret to finding fish. Trout are a schooling fish and once you find one, you will often be able to pull quite a few out of the exact same location. Try hitting visibly moving water near dropoffs, marsh entrances, and anywhere a predator would be sitting in wait for their next meal.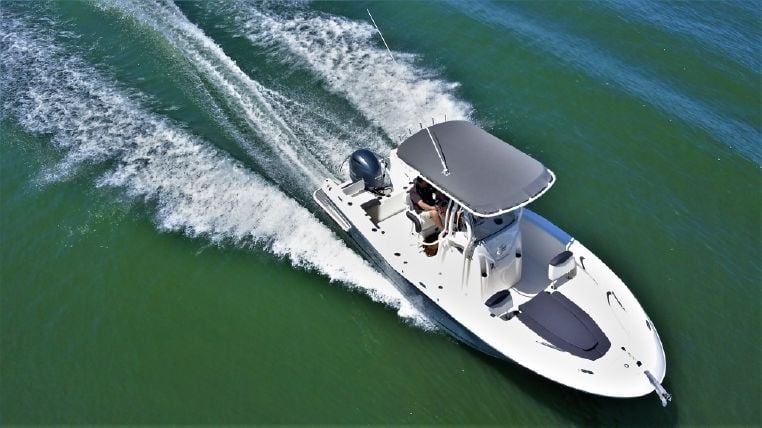 Looking For The Perfect Inshore Fishing Boat?
Be sure to check out our guide to the most popular bay boats and bay boats add-ons by clicking here! If you have any questions about the best vessel to fit your needs, please contact us directly and our brokers will help put you in the perfect boat.