The winter sportfishing season is in full swing. If you are stuck on land dreaming of the perfect sleek boat to get you out on the water, this is for you. We have pulled together a list of 28 famous sportfish builders to jump-start your search for your next dream boat.
28 Famous Sportfish Builders | The List
1. Albemarle Sportfishing Boats
Started in 1978, the focus of Albemarle Sportfishing Boats is on building boats that stay dry, provide a comfortable ride, and can still take a beating. Albemarle offers boats ranging from 24 to 41 feet in length with the majority of their boats being diesel inboard powered models from 36 to 41 feet long.
2. American Custom Yachts
American Custom Yachts was founded in 1992 to provide anglers with the fastest, strongest boats possible. The team is very customer-oriented with a focus on learning the individual needs of each client and matching them up with the best boat for their unique fishing and boating style.
3. BB Boats
If you are looking for a sport fisher that will hold up to full-time charter use, BB Boats should be on your short list. The layouts are done with ease of use, safety, and fuel economy in mind to maximize customer experience and business profitability.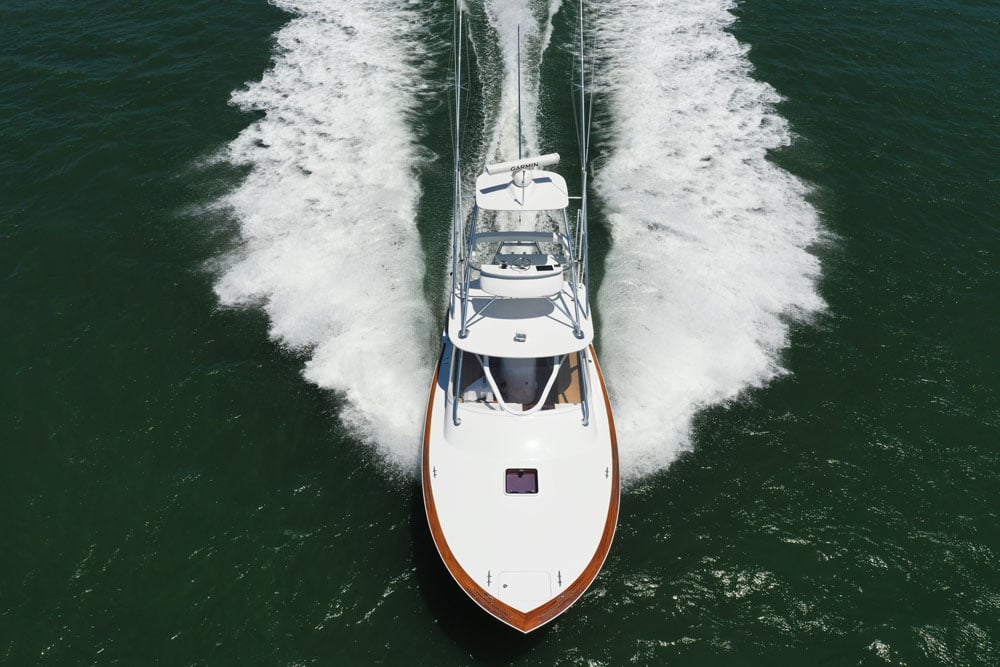 4. Bertram Yacht
Since 1960, the team at Bertram Yacht has been designing and building boats sturdy enough to brave rough seas while retaining fishability, speed, and comfort. The 31, 54, and 60 Bertram models have all made the list of legendary sport fisher vessels. Bertram also prides itself on customer service, providing plenty of guidance and support following the sale.
5. Bayliss Boatworks
One of the hallmarks of Bayliss Boatworks is a focus on relentless innovation. After each new model is released, the team actively solicits owner feedback that they can incorporate to make the next model even better. This attention to detail and passion for excellence ensures a line of boats that never stagnates.
6. Briggs Boatworks Inc.
The sweet spot for sport fishers is, in the opinion of Briggs Boatworks, 61 or 62 feet. Their models in these lengths offer large cockpits, plenty of entertaining space, and just the right amount of power for an excellent ride. Briggs works with customers to design the length and layout that are the best fit for them and their boating needs.
7. Cabo Yachts
Legendary designing Ed Monk was behind the first Cabo Yachts design in 1991. Signature features of the Cabo line that continue on today include molded-in bait tanks with windows, oversize custom hinges, gel-coated bilges, and roomy interiors. Wiring and plumbing are done in notably high-quality components and a streamlined design.
8. Davis Yachts
The custom Carolina design is a favorite of many oceangoing anglers thanks to its handling stability in heavy seas and strong currents. Davis Yachts is one of the builders for the custom Carolina design. Look for the signature pronounced bow flare and a multi-directional fiberglass hull that is strong and stiff yet very light.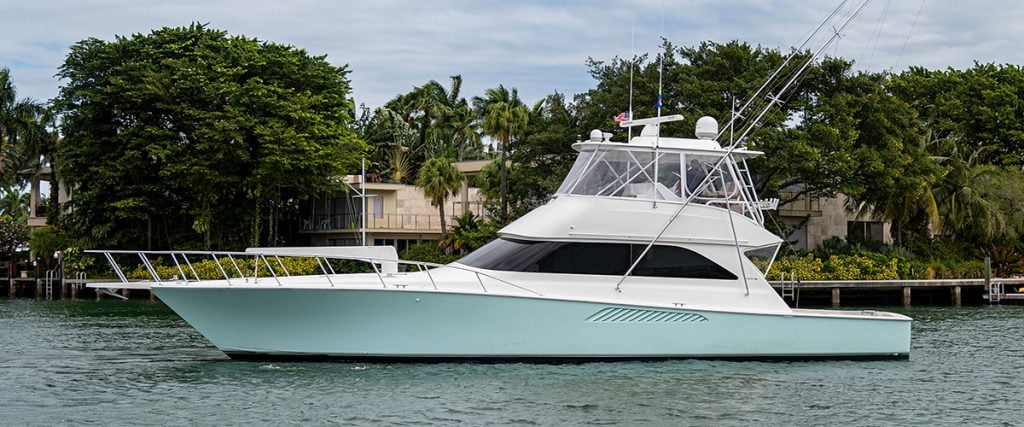 9. F&S Boatworks
When looking for the signature touch that makes F&S Boatworks sport fishers stand out from the rest, start at the bottom and work your way up. The hull design of F&S boats from their 36 to their 75-foot models is based on that of the Seacraft. Longitudinal steps enhance roll stability and tracking while the rest of the design blends traditional and modern elements drawing on the best components available.
10. Gamefisherman
While many builders focus on the larger sport fishers, Gamefisherman went into business specifically to fill the need for smaller day boats in the 37 to 40-foot range. The focus of the layouts is on fishing first with everything being designed around that purpose including the nimble handling characteristics.
11. Garlington Landeweer
The design of a Garlington Landeweer sport fisher is traditional and timeless from the clean lines to rounded edges, and low profile. An all-composite hull design provides strength, and the ride is pleasantly soft even in a head sea.
12. Hatteras Yachts
Hatteras is one of the early legends in the sport fisher world, getting its start in 1960 with fiberglass hull designs that are solid and sturdy enough to stand up to the harsh coastal waves of unforgiving seas along the Carolina coast. Newer models take advantage of resin infusion techniques and Seakeeper gyros.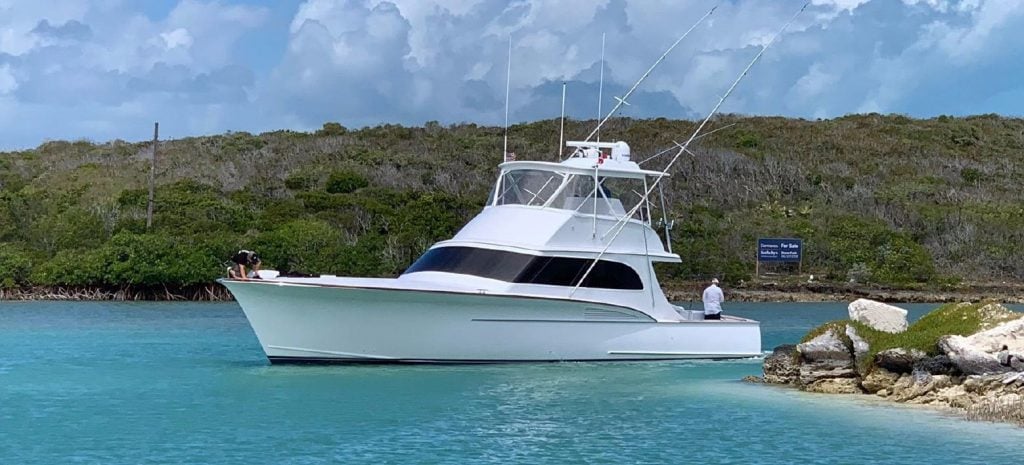 13. Henriques Yachts Inc.
Portuguese building techniques came to America with the founding of Henriques Yachts in 1977. Their semi-custom designs are reactive to customer needs both for interior and fishing packages. Expect to find large cockpits for the size and a structurally sound boat that can handle whatever the rough seas throw at it.
14. Jarett Bay Boatworks
Another custom Carolina builder, Jarett Bay Boatworks offers a pronounced bow flare design with a sturdy, heavy hull. The hull is made of a wooden core with inner and outer fiberglass for ultimate stability. Meanwhile, the house and interiors are foam cored to decrease the overall weight.
15. Jim Smith Boats Inc.
Boats from Jim Smith are known for their speedy, lightweight designs thanks to cold- molded construction. Consider one of their boats if you are looking for a larger vessel up to over 100 feet in length that delivers speed performance along with ride quality.
16. Paul Mann Custom Boats
The bottoms on Paul Mann boats are tailored to the customer's personal fishing style whether they need stability or a smoother ride. Advanced composite construction keeps the weight down and fuel efficiency up while outstanding customer services garners repeat clients.
17. Maverick Yachts
Maverick Yachts is another builder focused on smaller sport fisher models. Maverick boats are in the 32- to 46-foot category and offer a light, strong, tight design. Expect to find value and longevity for the price.
18. Merritt's Boat and Engine Works
Started in 1948, Merritt's Boat is one of the legends in the sport fisher industry. These boats withstand the test of time and harsh seas with light but sturdy construction. Look for the composite hull with e-glass and Kevlar skins plus carbon-fiber decking and cores that maximize fuel efficiency by decreasing overall weight.
19. Ritchie Howell
The design team at Ritchie Howell is proud of their ability to provide yacht-quality boats at competitive prices. Most hulls at Ritchie Howell are plywood and fiberglass through they are also open to the idea of an all carbon fiber design. Expect a Ritchie Howell boat to deliver speed and performance with a lower fuel burn than production run vessels.

20. Roscioli International
The two words that define Roscioli International designs are big and fast. Their designs focus on fit and finish with a level of quality and workmanship that owners can be proud of right down to the interior of the engine room.
21. Michael Rybovich and Sons Boat Works
Each Michael Rybovich and Sons boat is a custom design with a cold-molded hull catered to the specific needs of the customer. Quality workmanship and superior performance in rough seas are the focus of the design and build teams. This coupled with excellent customer service means that many clients return when it is time for a new boat.
22. Scarborough Boatworks
The founder of Scarborough Boatworks grew up boating and analyzing the handling characteristics of the best fishing vessels. When he later started his own boatworks, he focused on quality and value favoring traditional Carolina lines and a cold-molded hull.
23. Spencer Yachts
Spencer Yachts vessels are well-known for their stellar performance and unique look. A Spencer sport fisher is longer and leaner than the competition. Every bit of space is maximized so customers can get the most use out of it while staying within budget.
24. Tribute Performance Boats
Speed built the Tribute legacy from the early days when Tribute offered one of the only sport fishers capable of 40+ knots. Today, the brand keeps innovating while staying true to its roots. Longevity and outstanding engineering born of clean sheet designs keep each Tribute vessel feeling fresh and new.
25. Viking Yachts
Viking Yachts has crafted a reputation for consistency, building more than 60 high quality boats a year after having celebrated their 50th birthday in 2014. While some of the other sport fisher brands cater more to American customers, Viking Yachts has a global following as well with an estimated 30% of sales coming from international customers who are drawn to the brand.
26. Weaver Boat Works
The very efficient hull design of Weaver boats supports impressive speed with an equally impressive low fuel burn. An added benefit is a very clean wake. High speed boating necessitates a reinforced hull that can take a beating, and Weaver meets the challenge with Kevlar reinforced cold-molded construction.
27. Willis Marine Inc.
With Willis Marine, the focus is on the planning phase of each vessel they design. While they specialize in cold-molded hulls from triple-planked plywood, Willis has also turned out some full composite hulls and can meet other buyer preferences while retaining their keen attention to detail.
28. Winter Custom Yachts
Carolina style sport fishers from 24 to 75 feet in length are the specialty of Winter Custom Yachts. Their modern style and attention to the design details stem from the team's shared engineering backgrounds. Customers can customize everything down to the individual pieces of finishing hardware.