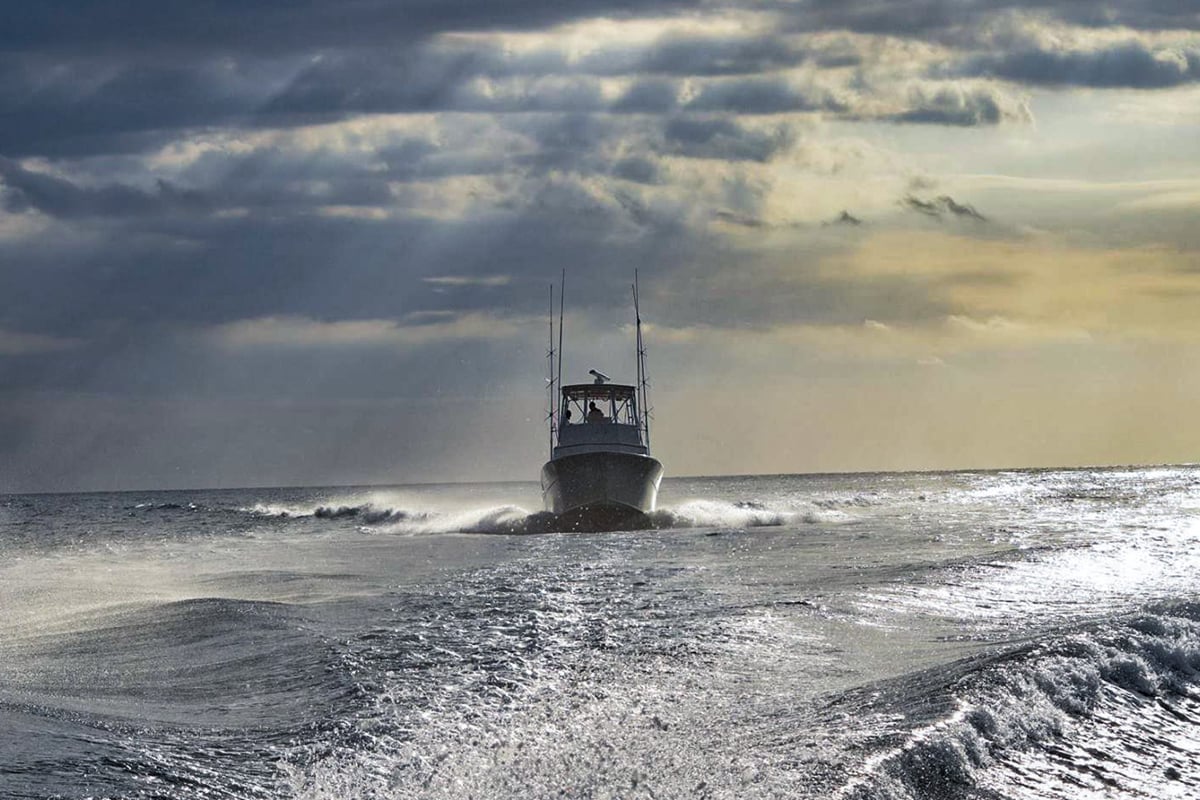 Posted on
December 14, 2021
The last few decades have seen the rise of exceptionally powerful sonar and fish finding capabilities. From simple blips on a small screen, to the modern technologies that power features such as side-scan, active lock, and real time display, companies such as Lowrance, Simrad, Garmin, and Furuno continue to push the retail sonar limits.
Within the last few years, one specific technology has been breaking into the scene and tournament fisherman are taking notice. Today, we will take an in-depth look at Omni Sonar, its applications, and what three captains have to say about it.
What is Omni Sonar?
Omni Sonar is a 360 degree omni-directional sonar which has and effective range of 5000 feet+ and has made it's way on to tournament boats across the world.  It offers 360 degree detection and displays real time data at a refresh rate of up to 5 times per second.
The sonar system utilizes a cone shaped beam so the width of detection increases with depth and the angle can be adjusted to fit the type of fishing and tracking goals of the captain.
Who Uses Omni Sonar?
With the ability to see fish in real-time as well as a target-lock feature (Furuno), fisherman can easily detect fish from a distance and utilize the omni sonar to put your spread right where it needs to be.
This makes an obvious case for fisherman in high stakes billfish tournaments to install this technology. With millions of dollars on the line, utilizing omni sonar is an obvious competitive advantage and despite the costs, captains throughout the world are moving towards this technology.
From The Captain's Chair
We spoke with a few captains and professional fisherman who often compete in the tournament circuit regarding their thoughts on omni sonar and its use in fishing tournaments. We asked each captain how they first found out about omni sonar, their thoughts on its use in tournament fishing, and if they would use it if available.
Brian Dressler:  Partner at Yachts360 | Tournament Fisherman
"I first heard about omni sonar a few years ago during the Big Rock Blue Marlin Tournament when a few captains were starting to use them. When it comes to their use during tournaments, there really is no slowing down technology and it is a huge advancement. However, I do think tournament organizers will begin regulating it as time goes on as not everyone has a few hundred thousand dollars to spare on this technology.
If it were more affordable, I would 100% use omni sonar and install it on our boat, Sails Pitch. I was able to test it out on a friends sportfisher and while it requires a well trained individual to properly use it, it is definitely hard to beat when it comes down to tracking a billfish."
Taylor Pleasant:  Owner of "Doc Fees" | Tournament Fisherman
"I've only been running an Omni on our boat for the last few months with a little experience beforehand testing it on other boats.
I think overall, omni sonar is here to stay. Technology is always advancing and there's always someone with the latest and greatest. Just seeing the number of boats installing them over the last 6 months pretty much guarantees they are here to stay.
Being able to look around the boat 360 degrees out to 2000' or so is a huge advantage. Knowing what is around you, or not, makes a huge difference and saves time. The biggest advantage of the omni is that it's painting a picture real time. It completes a scan in less than half a second which is huge when hunting individual fish like marlin."
Matthew Ginthner:  Captain, Florida Keys Charter Captain | Tournament Fisherman
"I forget what year, but it was at the Big Rock Blue Marlin Tournament when I first heard about and saw omni sonar being used. I have already heard certain tournaments are going to require omni sonar enabled boats to not deploy the technology until lines are in the water. This is how powerful and accurate these things are.
I'm actually amazed omni sonar is not outlawed from the tournament circuit. It can pretty much lock onto a target and give fisherman an unfair advantage compared to anyone not using it. I would definitely take it on our boat however the costs are insane not to mention it being backordered.
What Are Your Thoughts?
We've heard from three captains and it is hard to ignore the power of omni sonar. Do you think it will have continued use on the tournament circuit? Will it be banned? Let us know what you think!
Learn More About Furuno Omni Sonar Systems Below
Sources: