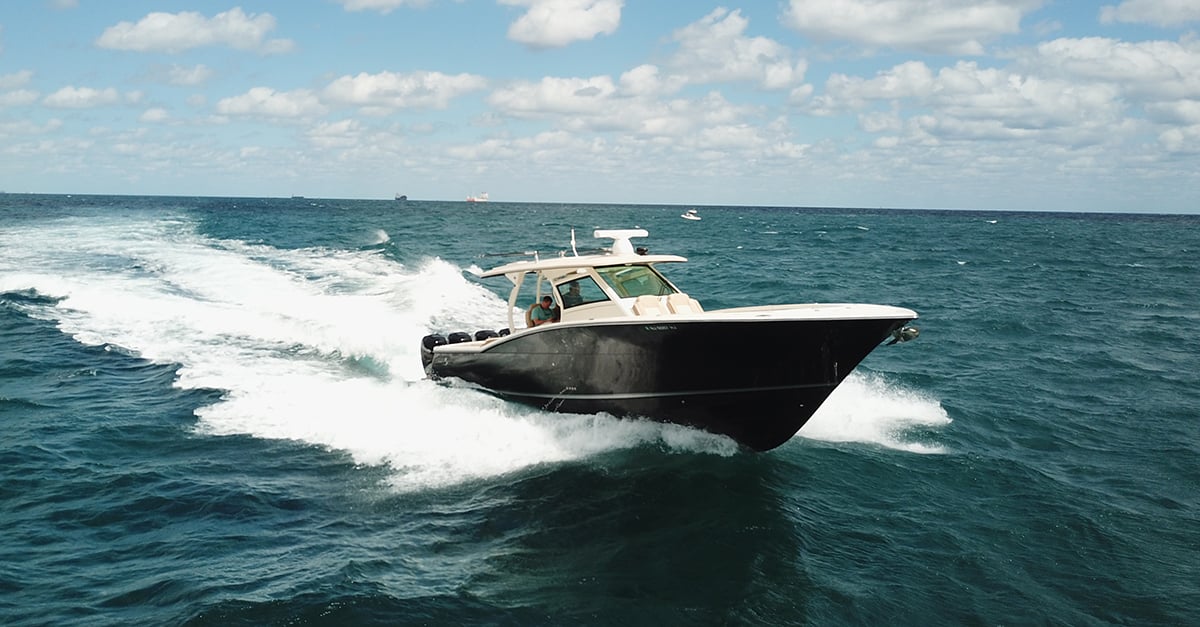 The weather is cooling off and fall fishing season is in full swing. If you have yet to get out on the water, now is your chance. Whether you plan to do your angling inshore or are seeking some offshore action, before you head out, know what species are heating up and how to pick the perfect type of boat for your adventure.
Inshore Fall Fishing
Inshore anglers this season can expect to find an abundance of speckled sea trout, red drum (or redfish), bass, crappie, and catfish. The cooler temperatures bring game fish out of deeper waters and into the flats and shallows that were too hot in the summer heat, making them much easier to catch.
To navigate the shallow inshore waters that the fish have moved to, select a bay boat or smaller center console configuration with a shallow draft. A good inshore boat will range from 18 to 24 feet LOA and feature casting decks. The best designs will include lower gunwales and a less pronounced V of the hull to minimize the draft.
Anglers who enjoy both inshore and offshore fishing do well with a hybrid bay boat. A hybrid bay boat is typically longer than a standard bay boat, with an LOA of up to 28 feet. You may even see twin outboards along with a full transom plus the casting deck and a deep cockpit.
Popular boat brands include: Pathfinder, Parker, Ranger, Mako, Boston Whaler, Carolina Skiff, Contender, Edgewater, Cobia.
View All Current Center Consoles Listings!
Offshore Fall Fishing
As you venture offshore this fall, expect to find black drum, flounder, grouper, kingfish, tripletail, and sheepshead along the Florida and Carolina coasts. Cooler weather also brings much larger trophy fish such as sailfish, mahi, and the occasional blue marlin. 
Choose your offshore fishing boat based on the hull design, deck layout, power system, and overall fishability and comfort of the layout. In general, larger center console boats tend to be best suited for offshore fishing thanks to their handling characteristics and design.
Center console boats average 20-30 feet or longer and have a deeper V hull design that dampens the impact of rough seas. This comes with a correspondingly deeper draft than the bay boats. Fuel capacity is also a greater consideration for offshore anglers, and center console boats can accommodate larger tanks than their inshore counterparts. A stepped hull design can boost efficiency and extend the range of that tank of fuel even further.
Expect more power on board your offshore boat with at least a dual and often triple or greater outboard setup that gives you the horsepower to cut through choppy waters.
If creature comforts matter to you, target the larger center console models that provide extra seating and even a cabin area to get out of the weather, prepare food, and sneak in a nap. This setup is ideal for anglers who plan to bring their families along or who will be going out on a multi-day adventure and need somewhere to sleep.
Popular boat brands include: Scout, Grady-White, Hydra-Sports, Boston Whaler. Contender, Jupiter, Sailfish, Tidewater, Sea Hunt.
Takeaways
Fall fishing season is upon us, and it is time to get out on the water. If you are looking for a new boat to take you to all the hot fishing spots, check out our selection of sport fishing and center console models. Whether your adventures will be taking you inshore or offshore, we look forward to matching you up with the boat that will suit your style.