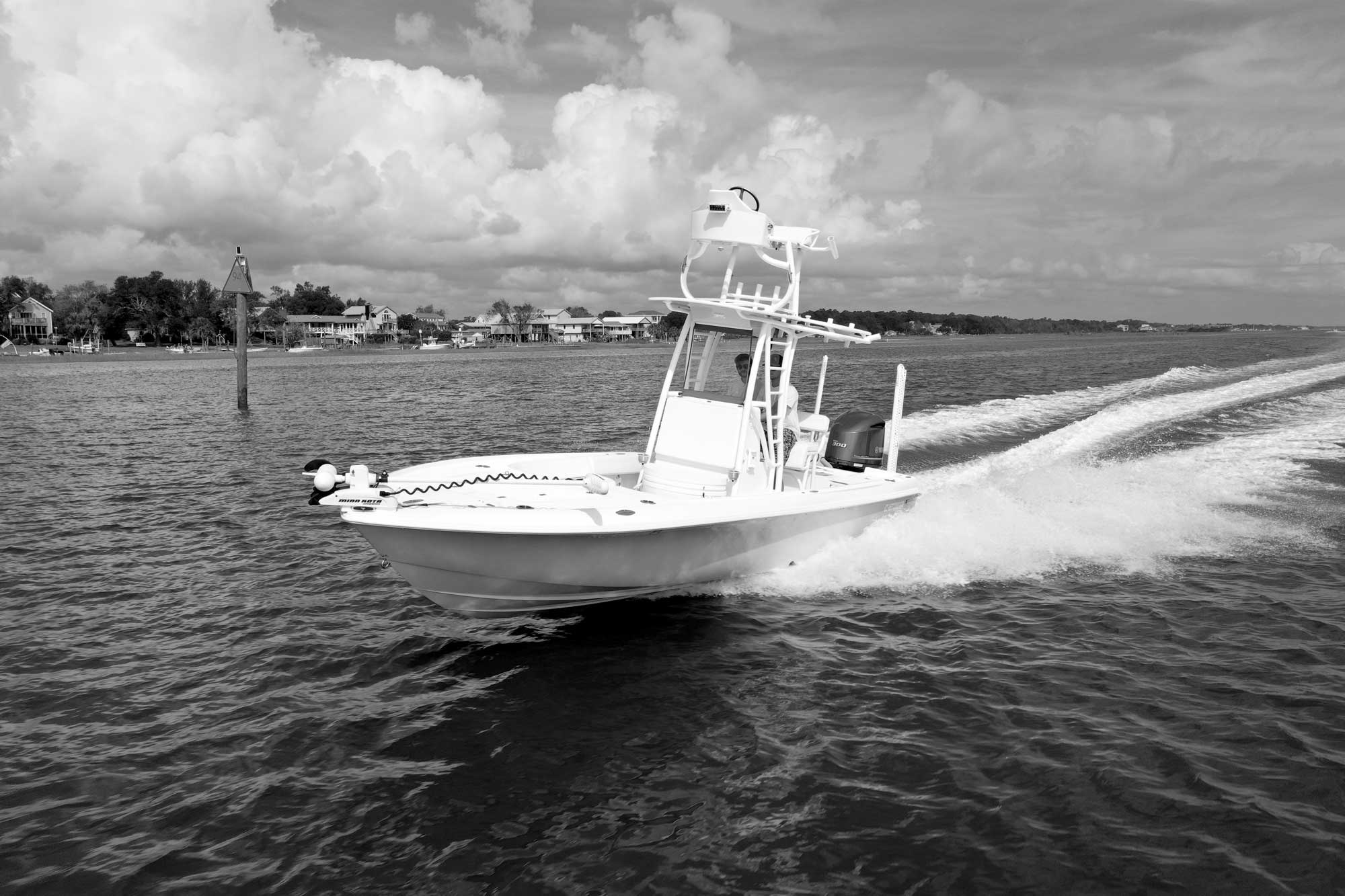 Bay boats are arguably one of the most versatile fishing boat configurations on the market, and there are plenty of manufacturers to choose from. Once you have landed your dream boat, it is time to personalize and outfit it for your next great boating adventure.
Purpose of a Bay Boat
Bay boats are designed to fill the middle ground between flats and center consoles. A bay boat can handle both calm, shallow inland waters and the somewhat choppier coastal seas. The typical bay boat design includes a shallow draft just over 1' with more deadrise and freeboard than a flat boat but less than a center console. Overall length is typically shorter than a center console, with a correspondingly narrower beam as well.
With increasing technology in trolling motors, pole anchors, and sonar systems,, bay boats are highly sought after and are taking over the inshore fishing world.
Most Popular Bay Boat Brands
When you are in the market for a bay boat, consider some of these well-known brands:
Contender has been a staple of the sportfishing boat industry for over 35 years. Their semi-custom boats are built with a focus on performance and durability. The Contender lineup is setup for fun, fishing, and offshore performance. One of their most popular bay models is the Contender 25 which can be configured to any inshore or nearshore fishing configuration you can dream up.  
Everglades bay boats have a 20-year history of inshore and coastal performance driven by founder Bob Dougherty. Dougherty is fond of saying, "When you're out with your family in 10- or 12-foot swells, you don't want to have a boat that was made by the lowest bidder." Bob brought his expertise developing the unsinkable Boston Whaler hull and his Rapid Molded Core Assembly Process (RAMCAP) with him when he started Everglades. The resulting quality shines through in the Everglades designs.
They current make a 243, 253, and 273 Bay series which are some of the nicest bay boats currently on the market.
At Grady-White Boats, the focus is on attention to detail, design integrity, award-winning performance, and exceptional customer satisfaction. Customer feedback is incorporated with precise engineering to produce boats that are "classically elegant and ruggedly durable with incredibly functional features." The 25' Coastal Explorer is Grady's bay boat offering, and it is built with a proprietary SeaV²® hull that delivers optimum stability in rougher coastal waters.
At Pathfinder, you will find smart layouts paired with build quality and performance. Pathfinder's angler driven approach makes them a brand of choice for serious fishing. All of their models are built around products and designs that place a safe, comfortable fishing experience at the forefront. Whether for tournaments or recreation, Pathfinder has a layout that is optimized for the task.
They have helped define the bay boat market with their 2200, 2300, and the famous 2600 HPS.
Scout Boats is synonymous with boating in style. Their luxurious layouts are "packed with timeless innovations, technology and trendsetting features." Choose a Scout for the combination of luxurious entertainment, cruising, and fishing potential. Scout's bay boat lineup includes a classic inshore/bay configuration as well as a hybrid. The hybrid 251 XSS model includes an innovative bow casting extension / table conversion that easily takes the front of your boat from fishing platform by day to cocktail lounge at sunset.
The name Yellowfin alone carries weight as known by their larger deep-V center console models, but their bay boats are also world class. Try designing your own Yellowfin 24-foot semi-custom bay boat right on the Yellowfin website and you'll see why. Their 24 Bay layout was designed to be ergonomic for both family outings and tournaments. Expect speed, fuel efficiency, and a smooth ride to your favorite fishing destination.
Bay Boat Accessories and Add-Ons
You have purchased your perfect bay boat, and now it is time to make it your own. There are plenty of cool add-ons that will take your boat from production model to customized, optimized beauty. Some of the most common and sought after upgrades include:
Hard top
Single or twin Power Poles
Trolling motor
High end electronics
Jack Plate
Trim Tabs
Tackle stations
2nd tower station
Extra livewells
Freshwater washdown system
Docking light and sound systems
Ready To Buy A Bay Boat? We Can Help!
Start by clicking here to view our current bay boat inventory. If we do not currently have what you are looking for, give us a call and we will utilize our extensive boating network to help you find your dream bay boat!