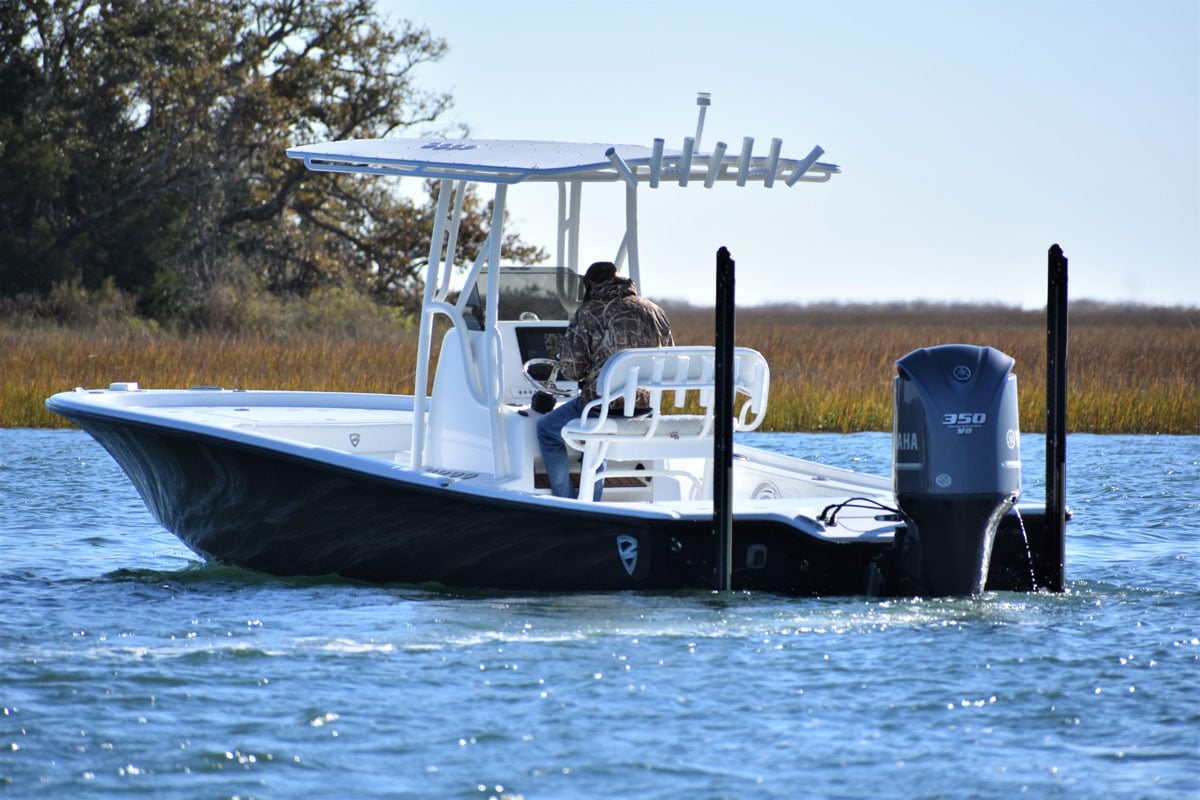 From a simple model originally built with legos, to being carried by over 3500 dealers across the globe, the Power-Pole has fundamentally changed  how small to midsize vessels approach anchoring in shallow water. 
Today we are going to take a look at the history of Power-Pole, the benefits of using one (or two), and a few things to consider before having one installed on your vessel. 
A New Approach To An Old Technology
Anchoring has never been a fun task, especially if you are fishing and are constantly having to move locations. From the time it takes to reset an anchor, to the fish-scaring noise it creates, it is no surprise that the creator of the Power-Pole, John Oliverio, was a fisherman.
In 1998 while flats fishing with his dog, John created the idea for a simple anchoring system that could be dropped while he was anywhere on the boat. After being tested by saltwater tournament inshore fisherman, the Power-Pole concept quickly grew into the line of products you see today.
 The original Power-Pole concept. Photo: Power-Pole Youtube Channel
Staying Put With The Touch Of A Button
So what are the most common uses for a Power-Pole and why did it grow so fast? If you have ever been inshore fishing, being able to approach an area quietly, move often, and stay put in a moving current is key. Before the Power-Pole, this meant at least one person was constantly on anchor duty.
Now, even a solo-angler can easily drop the Power-Pole with the press of a button and focus on fishing. As the Power-Pole progressed, anglers started installing two poles in order to combat the boat "swinging" in a heavy current. 
Today, you will see Power-Poles installed on numerous makes and models of boats in both fresh and saltwater. The ease of use has attracted recreational boaters looking for an easy anchoring solution at the sandbar. 
Models And The Future Of Power-Pole
While the current design does not stray far from the original concept, modern Power-Poles have a lower profile and offer more advanced functionality.
Power-Pole currently offers 5 models of anchor including the Blade Series, Pro Series II, Sportsman II, Micro Anchor, and a Spike Series. Each is made for a specific type of boat or situation. They also offer chargers, wireless control systems, and drift paddles which can reduce drift by 50% without the need for a traditional drift "sock". 
Power-Pole continues to innovate and redefine the anchoring systems of the past and if you have never tried one, we highly recommend it! 
If you have any questions about the benefits or a Power-Pole or are considering installing one, let us know! We are here to help.