The Swansboro Rotary Club Memorial Day Bluewater Tournament Starts This Week!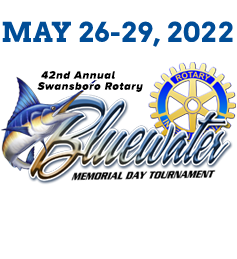 Tournament Information
For 42 years, the Swansboro Rotary Club has been hosting the Bluewater Memorial Day Tournament with proceeds benefiting the local community. With live tournament feeds, a historic setting, and plenty of money on the line, this year is going to another one for the books! Check out more information about the tournament below and click here to learn more.
Tournament Dates
May 26-29, 2022
Schedule Of Events
Thursday, May 26
6:30pm Captain's Party & Registration at Jack's Waterfront Bar in Morehead City
8pm Bluewater Captain's Meeting
Friday, Saturday, Sunday May 27-29th
9am-3pm Lines In The Water
4pm-7pm Scales (Friday/Saturday)
4pm-6pm Scales – Sunday
All weigh-ins are at Big Rock Landing
Sunday May 29
7pm Open Bar at Jack's Waterfront Bar
8pm Award Ceremony
Registration & Rules