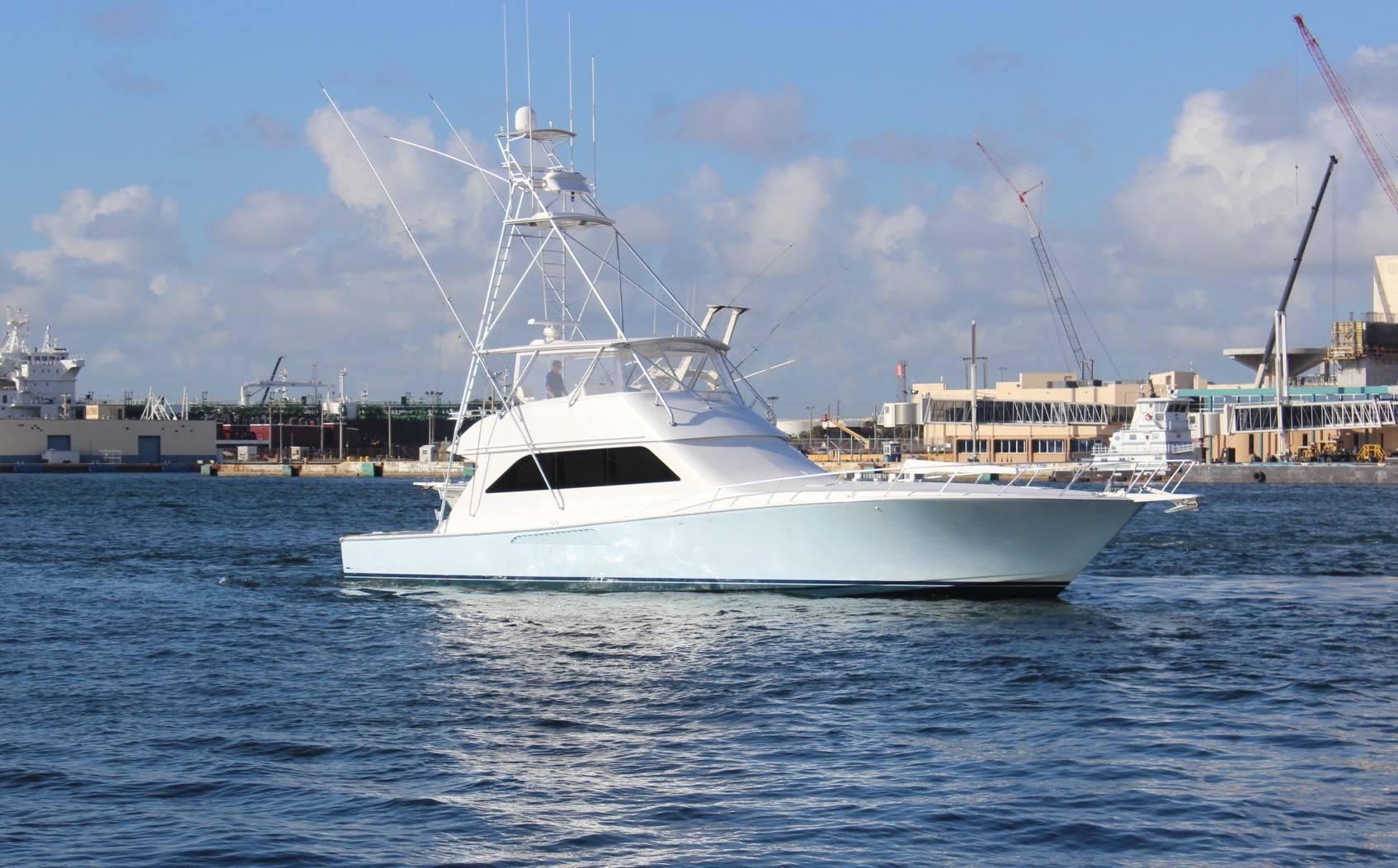 The Viking Yachts company was started by two brothers who now have over five decades of experience building luxury performance sportfishing and cruising yachts. In 1964 Bob and Bill Healey bought a company called Peterson-Viking Builders out of New Jersey which at the time was building 37-foot wooden sportfishing boats. The small company was struggling at the time, but after the Healeys picked it up, it eventually became what we know it as today.
Viking Yachts is a world leader in semi-custom fiberglass yacht production with over 4,000 boats delivered and a history of continually striving to achieve perfection.
The Viking 65
The Viking 65 first rolled out of the yard in 2000 and has since become known as one of the finest looking, strongest performing sportfisherman ever. Its clean, crisp handling allows it to cut through the water and make shallow to medium turns without losing speed.
From a style perspective, there are a few changes to previous years' line ups. For one, there is more of a crown on the foredeck. Corners are more rounded, and frameless windows smoothly follow the contour of the cabin.
The Building Process
The Viking 65s are built with two major parts – the hull and the foredeck plus the deckhouse and cockpit assembly. These components are mechanically and chemically bonded to create one-piece constructions that can take the punishments of any ocean year after year.
The hull weighs only about 1,000 pounds more than the 58. This is partly thanks to the end-grain balsa composite hull construction that gives the 65 great strength while also saving on weight. With exception to under the engine area, the stringers on the 65 are foam filled for additional weight reduction.
Flybridge
The first thing you may notice up top is is plenty of seating in front of the wheel along with plenty of room for equipment stowage. An additional refrigerated drink box will keep you from having to go down below to quench your thirst. There is both a captain's chair and a guest helm chair positioned behind the clean looking instrument panels to offer a commanding view for maneuvering and docking.
Sport Fishing Capabilities
A massive cockpit allows for more than one angler on deck without getting in each other's way. The 65 is known for its minimalism both on deck and below, but don't let that fool you. There is, simply put, a place for everything which is what keeps this cockpit and deck looking tidy and sharp. You still have all your fishing amenities. They are just strategically placed to avoid visual clutter. Take for example, a refrigerated drink cooler hidden under one set of steps and a cleaning supply and bait stowage compartment under another set.
Step Inside
Go forward, take two steps up, and you'll enter the main salon where you'll first notice how clean and minimalist the cabin may look. But as with the sport fishing amenities, don't let that fool you into thinking the 65 is short on creature comforts. The brothers at Viking simply are keen on hiding appliances in the galley while being able to show off the hand finished joinery.
A four-cabin layout is standard, featuring staterooms that are both spacious and luxurious. The master suite is perfectly located amidships and offers a walk around king-size bed. There is a rather large stowage compartment directly under the bed that will accommodate large or bulky gear. Moving forward to the VIP stateroom, you'll be greeted with a queen-sized bed along with a private head and shower for your guests. Then there is the starboard stateroom that can handle two guests in upper and lower berths. Finally, the fourth stateroom, just above the master suite, has its own access to the engine room, making it an ideal cabin for crew.
Down Below
Two direct drive diesel MTU M91s capable of producing 1800 horsepower each can propel the 65 to just under 40-knots which will get you anywhere in a hurry. A better cruising speed is around 30-32-knots. At this speed she is both comfortable and smooth. The engine room is clean, and much attention has been put into positioning maintenance items in easily accessible areas.
The Take Away
The Viking 65 is one of three new models Viking Yachts produced in the early 2000s. Viking is a company that has stood the test of time despite having gone through a few periods of financial difficulty over the years. Each time, the owners invested much of their own capital in order to continue making the boats we see on the water today. If you were to describe this company in one word, it would be "passion."
Viking builds boats because they are passionate about what they do. They are always making improvements to their designs and you can see that throughout their history. Viking – great boats with a great past.