Posted on
January 26, 2022
Meet Yachts360 Broker Dexter Montague
We caught up this week with Dexter Montague to discuss his experiences as one of the earliest members of the Yachts360 team, working in the marine industry, and time spent growing up in North Carolina.
Where is your hometown and and what are your earliest boating memories?
I was born and raised in Raleigh, North Carolina and spent summers tubing, wakeboarding, and enjoying time on the water at Jordan and Harris Lake. With a family house on Atlantic Beach, I was also lucky enough to be enjoy offshore fishing with my Dad and uncle as soon as I was able to join.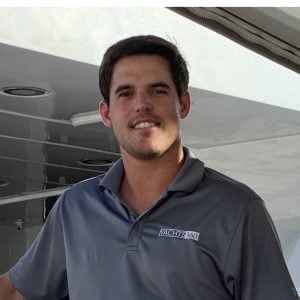 What originally sparked your interest in further pursuing boating as a career?
Would you rather Captain, Mate or just be along for the ride?
I really enjoy being in the cockpit of a boat while offshore when the action happens, so I would go with being a mate. However, I am willing to do whatever I can to help out.
What is your favorite aspect of being a Yachts360 broker?
Get In Touch With Dexter Montague!
Contact Dexter Montague by phone or email at Dexter@Yachts360.com or (919) 337-2109.